Balcomie Links Caravan Park
is owned and managed by Valerie Crockett, who has a long association with the Park, her parents having bought it in 1967. Assistant Manager Billy Annal started working at the Park in March 1995 and is able to provide many of the maintenance services for the Caravan Park and Holiday Homes assisted by Tom Batey who started at the Park in 2005.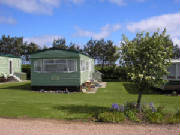 The Park accommodates 91 caravan holiday homes. It is in two sections, the Main Park opened in 1965 and the Grove opened in 1990. The total area is just over five acres.
Over the past fifty years we have planted hundreds of trees and bushes to enhance our surroundings and create a suitable habitat for birds and other wildlife.
We have hedgerows of Hawthorn and Beech together with Sycamore, Rowan, Ash, Cherry and Swedish Whitebeam to name just a few.
Dogs are welcome provided they are kept on a lead and exercised off the Caravan Park.
Our Holiday Home Owners like a peaceful life - so football is not allowed.
| | |
| --- | --- |
| | |